Tomb Raider Characters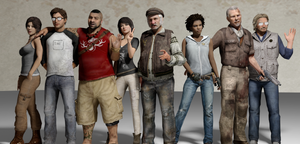 This page is a list of characters that appear in Tomb Raider.
Heroes and Allies
Edit
Character
English voice actor
French voice actor
Japanese voice actor
Polish voice actor
Spanish voice actor
Arabic voice actor
Italian voice actor
German voice actor
Russian voice actor
Lara Croft
Camilla Luddington
Alice David
Yūko Kaida
Karolina Gorczyca
Guiomar Alburquerque Durán
Nadine Njeim
Benedetta Ponticelli
Nora Tschirner
Polina Sherbakova
Conrad Roth
Robin Atkin Downes
Hervé Jolly
Hideyuki Tanaka
Grzegorz Pawlak
 
 
 
 
 
Samantha Nishimura
Arden Cho
Chieko Hidaka
Geneviève Doang
Asami Imai
Klementyna Umer
 
 
 
 
 
Alex Weiss
Andy Hoff
Sébastien Desjours
Daichi Endō
Karol Wróblewski
 
 
 
 
 
Jonah Maiava
Earl Baylon
 
Yoshihiro Kanemitsu
Jakub Wieczorek
 
 
 
 
 
Joslin Reyes
Tanya Alexander
Maïk Darah
Yōko Soumi
Monika Kwiatkowska
 
 
 
 
 
Angus Grimaldi
James Walsh
 
Naoki Tatsuta
Janusz Kulczycki
 
 
 
 
 
James Whitman
Cooper Thornton
 
Bin Shimada
Jacek Kopczyński
 
 
 
 
 
Ad blocker interference detected!
Wikia is a free-to-use site that makes money from advertising. We have a modified experience for viewers using ad blockers

Wikia is not accessible if you've made further modifications. Remove the custom ad blocker rule(s) and the page will load as expected.